Bringing home a new Bonsai tree can really add some classic Japanese beauty to your home. These traditional plants are long-lived, compact, and quite stunning, but there is a small learning curve when it comes to taking care of them. If you see your new Bonsai tree leaves turning black, however, don't panic!
Today we'll cover blackening leaves, including black spots and black tips, as well as repotting questions, climate control concerns, and more. Read on to find out what you need to know about raising and rescuing your Bonsai!
Why Are Your Bonsai Tree's Leaves Turning Black?
When your Bonsai's leaves are getting black spots or darkening overall, don't panic – there are certain things that you can do to help. Let's take a look at a quick checklist of things that you need to consider.
Air Circulation
If your plant is too close to a heating or AC vent, then it's going to affect humidity levels. Most commonly, excess water doesn't evaporate at a normal pace, and your Bonsai ends up basically sitting in a puddle of too much water. If a vent is very close, then you should move the plant to another location.
Overwatering
New Bonsai owners are often religious about watering their plants, but often their inexperience can lead to overwatering. A simple way to avoid this is to check the topsoil each time before watering your plant. Stick your finger in the soil, and if the top 2 inches are dry, then it's time to water the Bonsai.
Underwatering
When the top 2 inches of soil are dry (usually once a week), an easy way to make sure your Bonsai is getting enough water is the 'bucket trick'. Immerse your plant gently and completely into a bucket of water and once you see air bubbles coming to the surface, then take it out. Your Bonsai should be fully watered.
Black Spots may Indicate Fungus
Fungus can grow on the leaves of your Bonsai and start killing them off if you aren't careful. If you see singular black spots, then that's likely what you are looking at, and you'll need to go to your local plant nursery to get some Fungicide.
Spray the leaves as instructed on the packaging, and the fungus should quickly die off, but if some leaves have too much damage, then you should prune them.
Insufficient Light
Bonsais need 5 to 6 hours every day of bright, direct sunlight. While some plants can get by on indirect sunlight, this is rarely the case with a Bonsai. A south-facing window is best, but a west window is good as well for ensuring that your Bonsai gets fresh sunlight delivered daily so that they can make their food.
If that's not an option, then you should invest in UV lighting to give your Bonsai a better chance at both surviving and potentially thriving. Indirect light alone is simply insufficient for most Bonsai trees in this regard.
Why Are My Bonsai Tree Leaf Tips Turning Black?
If you are seeing black tips on your leaves, rather than spots or wholly browning and blackening leaves, it is almost always an overwatering issue. Try one or more of the steps below, and you should see improvement.
Reduce the Volume in Your Watering
Your Bonsai is usually only going to need water once a week, and this is during the warmer months. When winter comes, your tree will sometimes need watering only 2 to 3 times a week.
The leaves should still be lightly misted, as inside heating can dry them out, but don't water the tree otherwise without checking the soil first.
Check the Soil on Each Watering
Get in the habit of sticking the tip of your index finger into the topsoil of your Bonsai. Push it in about 2 inches, and if the top 2 inches are dry rather than moist, then you may water the plant safely. If it's not, then leave it alone, or the problem will get worse.
Consider Moving the Plant
Your location will have an effect on your water volume. For instance, if the sunlight is too filtered, then your Bonsai won't make enough food and may barely get by. If you use a dehumidifier for allergies and it's nearby, then this might be drying out your plant. Consider the location carefully – a move might be beneficial to your Bonsai.
Make Sure Your Plant is Not Close to Vents
Speaking of location, it's easy to forget about heating and AC vents, and if one is too close, then it's going to affect the natural evaporation process that reduces excess water. It can also make the leaves too moist or too dry. If your plant is directly under a vent or suspiciously close to one, then move it somewhere else.
Keep a Regular Schedule and Adjust for Winter
You'll have to check the topsoil regularly, but doing so will teach your Bonsai's unique watering schedule in a very short time. Keep checking, just in case, but make sure that you are always watering your plant when the top 2 inches of soil are dry and never when it is moist.
Don't forget that it will need less water in winter, as well, and adjust your schedule accordingly.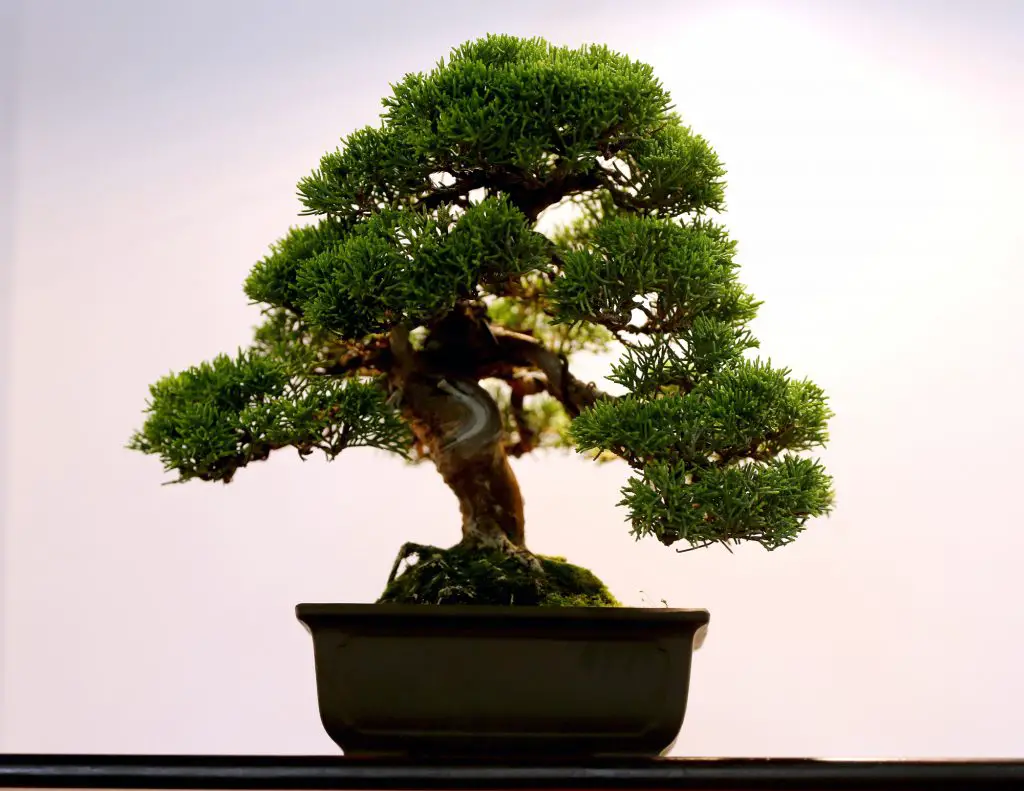 How To Revive A Bonsai Tree With Black Leaves
If your Bonsai has taken a dramatic turn for the worse, there is still a chance that you can save it. We've assembled a rudimentary checklist that will cover the basics and should give your Bonsai a fighting chance. Let's take a look!
Cambium Check
Light scratching with your fingernail in a few spots on your tree should let you check the cambium, which is basically the layer just beneath the bark of your Bonsai. If it's green, then your plant is still alive, but don't panic if you find a dry spot or two if there are still green ones.
Prune Sections That are Already Dead
Dead leaves should be trimmed off, and any dead branches have to go, with NO exceptions. Dead branches are 'disease factories' where your Bonsai is concerned, so this very important.
Pick a New Location
A south window is best, but a west window is also great for proper sunlight as well. Your plant needs 4 to 6 hours of the direct, undiluted variety of sunlight, and you should check the area for vents to make sure there are no air circulation hazards that will affect your plant's water levels.
Prune the Roots
If the plant is in very bad shape, then we're going to need to repot it, so there is a final trimming concern that we'll need to address – the roots. Prepare your pot per the section after this one, and then remove your Bonsai from its soil. Quickly trim off any dead roots before immediately repotting your plant.
Repot the Plant and Start Fresh
When repotting your plant, you can use a commercial potting soil such as 'Boon Bonsai soil mix,' or you can make your own mix at home. Bonsais need a ph level between 6.5 and 7.5, and a good home mix consists of the following:
50% Akadama (Japanese hard-baked clay specifically for Bonsai trees)
25% Lava rock
25% Pumice
How To Prevent Bonsai Tree Leaves From Turning Black
Preventative maintenance of your plant is the best way to keep it happy. As such, you'll want to schedule a routine that includes the following necessary components.
Check the Soil Regularly
Checking the soil with your index finger is easy to do and the secret to raising all kinds of plants the right way. With Bonsai trees, the top 2 inches should be dry before watering and don't give them a drop until this is the case except for a light misting of the leaves if the air is very dry.
Adjust Watering for the Seasons
In the Winter, you are looking at watering your Bonsai every 2 to 3 weeks unless you have extremely granular climate control in your home. Always check the soil, but keep in mind that your schedule will likely be once a week from spring to summer and as-needed when it's colder.
Misting is Helpful
If you live in an exceptionally dry state, such as Arizona or New Mexico, then misting is a definite must. Even with indoor climate control, missing can be helpful. Keep a spray bottle nearby, and misting the leaves once a week should keep your plant happy.
Fertilize During the Growing Season
Fertilizer works, so be sure to use it! From the beginning of spring until the late summer, you should be fertilizing your Bonsai with liquid fertilizer once a week, and this is applied for deciduous, coniferous, and tropical varieties.
If you see yellowing of the leaves, then reduce the amount of fertilizer; outside of this time period, you should only fertilize your Bonsai once a month.
Prune As Needed
Don't feel squeamish about trimming off dead leaves or branches. It's a GOOD thing with plants, which will otherwise be more prone to becoming diseased if those dead bits aren't regularly trimmed. Keep your mini shears handy, and don't be afraid to use them.
FAQ
What are the Best Bonsai for Beginners?
The 'All Things Bonsai' website recommends Juniper as one of their best 'starter Bonsai' plants. These evergreens are hardy, and Junipers from Japan are highly prized, especially older ones.
Are Bonsai Plants Safe for Pets?
Always check the species. While many are safe, the Bonsai Resource Center warns that you definitely want to avoid Sago palm, Jade, Boxwood, and Azalea Bonsais.
How Old do Bonsai Trees Get?
Bonsais are pretty amazing, with some being passed down through the generations in families. These little trees are tough cookies, and Bonsai Empire even tells us that some are known to be over 800 years old!
Some Final Words
While it seems hard at first, taking care of your Bonsai is a breeze once you've gotten to know your plant. Get in the habit of checking the topsoil with your fingers so that you always know when your plant is thirsty, and don't be stingy with those shears – dead leaves and branches have to go!
Don't be afraid to repot your plant if it's in bad shape, and fertilizer is a must, once a week from early spring to the late summer months and once a month when it's colder. Bonsai tree leaves turning black will quickly become a thing of the past, but if they turn yellow, then you're overdoing it.
With practice, you won't even think about it. Just be sure to teach your grandkids early how to take care of it. With proper care, it's going to live for a very long time, indeed!